This month I launched my portrait photography business.  Scary-fun stuff!
I've been slowly putting all the pieces together and although I still have much more work to do, I feel like it's time to just do it.  If I wait for everything to be in place, I run the risk of letting excuses get in the way of progress.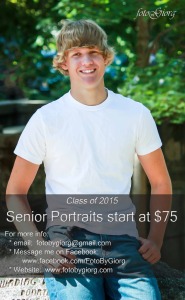 I'm starting with senior and family portraits.  My standard package is priced at just $75.
I decided to start my business because I love photography and I want to share great memories with everyone I come in contact with.  We'll have fun during your photo session and I'll  deliver great quality photo's that capture this moment in your life.
Contact me today to schedule your photo session!