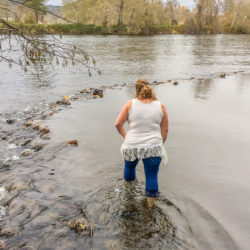 Every photo shoot is special, but some really stand out – especially when Mom is a superhero!
I had a session on a pretty fall day last November with two young siblings at a local park along the river. I had encouraged Mom to bring props that the kids enjoy; it gives them something to do and helps their little personalities shine. Two year old Waylon brought his favorite dump truck and excavator. We weren't very far into the session, just getting warmed up, when Waylon let his dump truck (with excavator in the bucket) roll down the slope. Mom was certain that the truck would be stopped by the grassy river's edge; as for me, I kind of just stood there thinking Mom would catch up to it and watched it roll on by. Needless to say, the grass did not stop the dump truck and it went directly into the river. We all watched it float away with the current.
Waylon was devastated. We watched the dump truck get further and further away, but then it got hung up in a cluster of rocks. Mom promised Wa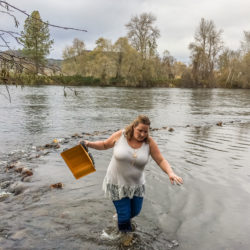 ylon that Daddy, who was stuck at work, would go in the river once he got there and get the dump truck back. Waylon thought that was a good plan and we finished the photo shoot.
As luck would have it, Dad was unable to break away from work. After we packed up, Mom decided that we were going to reclaim the dump truck from the river. We marched up stream to where the truck was. In all truth, no one really wanted to go into the icy cold river. Mom's love prevailed and in she went! Mom saved the day and Waylon got his dump truck back.