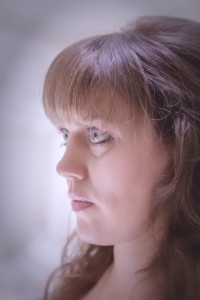 As weddings go, the "moment" that gets a lot of attention is when the groom sees his bride at the end of the isle.  Rightfully so…I can't help but be moved by the emotion.  I wasn't prepared for the moment Christine first saw herself in the mirror before going out to greet her groom.  
After months of planning, preparing, and attending to details followed by hours of hair, make-up, and lacing up the dress, she finally got to gaze upon herself.  She had been surrounded by her friends, make-up artist and me; through each step of getting ready, we all watched her evolve into a bride.  I hadn't given any thought to the fact that her perspective was entirely different and she hadn't seen herself fully "put together."  It was almost an afterthought that she said, "Wait, I want to see myself," before heading out the door.  Makes sense, right?
As she walked through the bathroom door toward the mirror, I was nearly overcome as I was hit by the realization that this is the moment when it all comes together – planning and preparation are done, hair and make-up are done, guests are waiting just a few feet away, the dress fits.  I had goosebumps.  This was a defining moment.  Not only for Christine, but for me as well.  Capturing precious moments like this is why I love being a photographer.